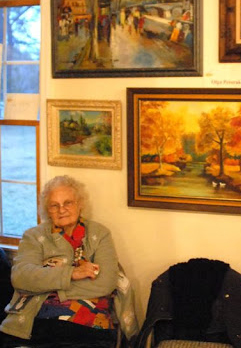 We are very sad to announce that +Olga Petorak, a beloved mother, grandmother, and great-grandmother in our parish community, reposed in Our Lord on Monday evening.
(Olga is pictured at left, with some of her beautiful artwork on exhibit at our parish Art Show last fall.)
We ask you to please keep the newly-departed Olga, and her family, in your prayers. May the newly-departed +Olga's memory be eternal!
The funeral arrangements are as follows:
Wake
Wednesday, November 27, 2013
2:00-4:00 PM and 7:00-9:00 PM
Fr. John will lead a Memorial Service at 8:00 PM.
Joseph A Weber Funeral Home
231 Hawkins Ave., Lake Ronkonkoma
Friday, November 29, 2013
6:00-9:00 PM
Battenberg Funeral Home
Jermyn, PA
Funeral
Saturday, November 30, 2013
St. Michael Orthodox Church
Jermyn, PA
Burial to follow, at St. Michael Cemetery, Archbald, PA.
A memorial meal will be held at Alexander's Restaurant, Mayfield, PA.